We are proud to announce that in early November we've started the first Loftmill office  in Łódź in central Poland. Łódź is famous for its historical factories repurposed as residential buildings, malls and offices, and since we've appreciated lofts from the very beginning, it was obvious for us to open the next  flex office right here.
We chose the Stara Drukarnia Center in 130 Gdańska Street as the first Loftmill location in Łódź. In designer interiors, on 2100 square meters, we arranged 350 desks, 11 conference rooms, 6 kitchens, numerous rooms for teams between 2 and 60 people, as well as a cocktail bar and lounge zone.
Stylish and comfortable offices in Łódź
Serviced offices in Stara Drukarnia are currently the most modern flex office in Łódź. The 100 years old building in 130 Gdańska Street used to be the seat of the military printing shop and weaving plant. After renovation it turned into prestigious office premises in Łódź, with a loft ambiance that refers to the industrial history of the city.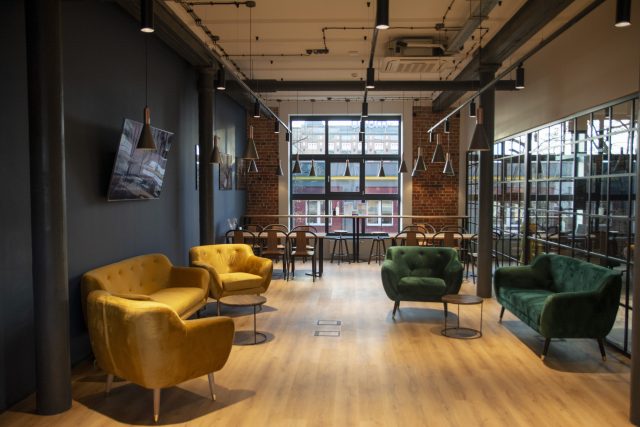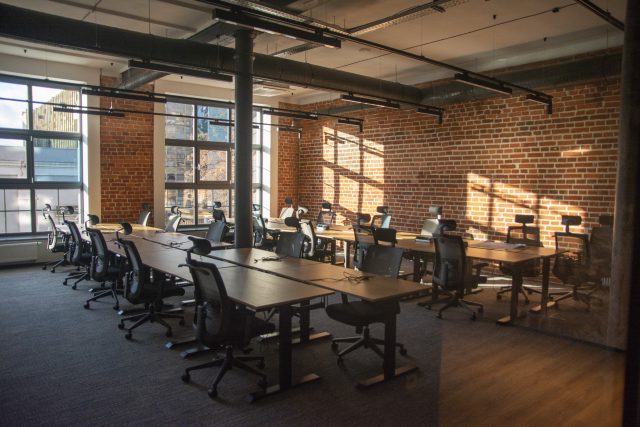 Each of the three floors has a kitchen, conference rooms and office spaces of various size. On the first floor we arranged a front desk, chillout zone with a bar, pool table, game console, displays, as well as comfortable couches and chairs. 
Some office premises look like modern art galleries, due to their original decor. Some walls are made of copper, here and there there are colorful drawings resembling murals, as well as original decorations, e.g. sliding doors. Modern equipment includes electronically adjustable desks, ergonomic chairs and air conditioning. We haven't forgotten about nap rooms, silenced phone rooms and printers, coffee makers and fridges.
Loftmill began its expansion into central and northern Poland from Łódź, due to its impressive business potential. Over the recent years its was the location of numerous coworking spaces and traditional office investments. Our new flex office in Łódź responds to the lack of premium premises, providing flexible rent, allowing the customers to efficiently adjust to the changes in the market. During the pandemic optimizing office maintenance costs is a matter strategic for many companies.
Efficient, redundant connectivity at the office, also in Łódź
Loftmill offices in Stara Drukarnia, as most of our locations, provide the customers with a redundant 1000 mb/s fiberoptic network. It responds fully to the needs of companies from the IT, e-commerce, finance or advertising sector and, importantly, is not yet widespread in offices in Łódź. We regularly test its security against any hacking attempts.
Even before the official opening of the office in Stara Drukarnia 75% of its space was leased or the related negotiations were at an advanced stage. Today this location houses offices of tenants from the IT, HR and event industry, and the premises are open 24-hours per day. Feel free to visit!